E-LINE
E-CUBE Electronic Portable Restroom
The electronic portable restroom is available with the classic outdoor Armal design that is well known for its strength and durability. Users will benefit from a restroom interior upgraded with all comforts and amenities, giving the feel of a home bathroom.
E-CUBE: STURDINESS, COMFORT AND ELECTRONICS COMBINED IN A PORTABLE RESTROOM
E-CUBE interiors are no different than those of the Armal E-TOP, thus delivering a VIP toilet experience. What sets apart E-CUBE is the external design which is the classic Armal CUBE style made of high density polyethylene with anti UV treatment.
ARMAL E-CUBE: THE ELECTRONIC RESTROOM WITH TASTEFUL INTERIORS
The E-CUBE portable restroom features all of the following amenities as a standard: toilet paper dispenser in foils, soap dispenser, paper towel dispenser, dustbin, mirror and led light. The wow effect is guaranteed: after visiting E-CUBE end users will look at portable restrooms in a new way.
Versatility at its best: four operating modes for one product
E-LINE offers a variety of solutions (single restroom, 2-restroom station, 2-restroom trailer), all of them based on the same core technology allowing four operating modes:
self-contained (using external fresh and gray water tanks)
self-contained using the fresh water tank and connected to sewage
self-contained using the gray water tank and connected to water supply
mains connected (both water and sewage system)
Operations are very easy and the same knowledge applies to all products. This is a big plus for you, but also for us, as we will further develop this line by creating more products with the same much appreciated technology.
Technical specifications
Height (internal – external) 2.070 – 2.330 mm / 81.49" – 91.73"
Width (internal – external) 1.000 – 1.060 mm / 39.37" – 41.73"
Lenght (internal – external) 1.000 – 1.060 mm / 39.37" – 41.73"
Seat height 450 mm / 17.71"
Weight (empty) 97 kg / 213.84 lb.
Power supply DC 12V
Fresh water pump (No. 1) from 10 L/min. – 2.64 gal./min.
Hand wash sink pump (No. 1) from 4 L/min. – 1.05 gal./min.
Gray water flushing pump (No. 1) from 18 L/min. – 4.75 gal./min.
Gray water pump hose diameter 38 mm / 1.50''
Water consumption per each flush 1 L / 0.26 gal. for the toilet bowl and 0,2 L / 0.05 gal. for the hand wash sink
Material used
External structure in high density polyethylene with anti-UV treatment
Translucent polyethylene anti-UV treated roof
Marine wood base with anti-slip PVC floor
Sanitary wares in ABS
Features include
One station with toilet and hand wash sink
Automatic pumps management
Push buttons to activate the toilet bowl flushing with fresh water and the hand wash sink
Moulded flushing rim around the top of the toilet bowl to allow fresh water to be directed over the entire surface so that it is completely flushed with water
External plugs for an easy connection to water supply and sewage system (the unit can be positioned at 10 m/393.70'' from the network)
Level sensors and automatic stop when the maximum/minimum levels of the gray/fresh water in the respective tanks are reached (self-contained use only)
LED light with integrated presence sensor that turns on automatically at dusk
Aeration vents, built-in on the cabin walls, to protect it from rain and ensure good aeration conditions inside
Door with return spring and lock system with vacant/occupied indicator
Sanitary wares in ABS
OSB (Oriented Strand Board) wood panel floor or anti-sleeve marine wooden one (depending on the model)
Paper hand towel dispenser in foils and soap and sanitizer dispenser
Toilet paper dispenser in foils and 8 L/2.11 gal. plastic dustbin
Mirror
Coat/tool-belt hook
Predisposition for No. 1x65Ah car battery
Standard colors
Medium Blue
Green
Caramel
Ash Grey
Bright Red
Bright Orange
White
Pine Green
POP colors
Turquoise
Green-Lime
Fuchsia
Chrome Yellow
Brick Red
Scented colors
Discover the E-CUBE Electronic Portable Restroom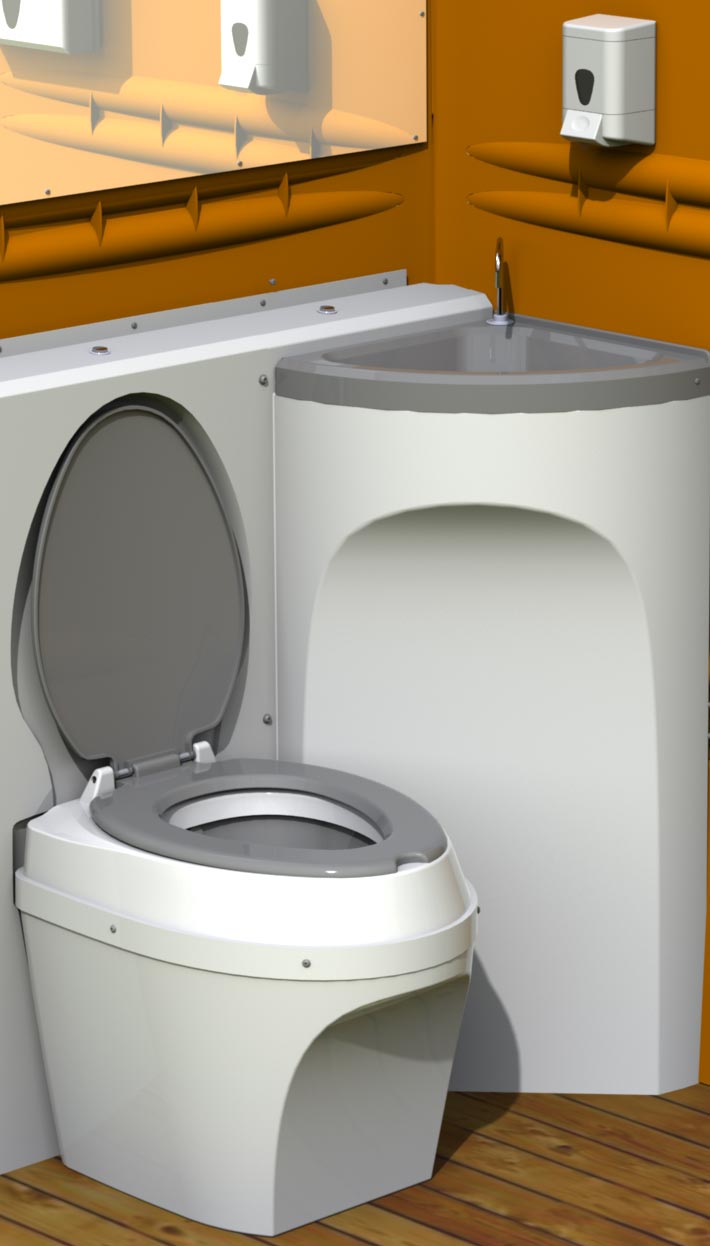 Are you interested in E-CUBE Electronic Portable Restroom?